France Gauthier presents an Evening of Cabaret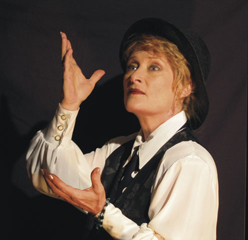 France Gauthier is pleased to present her Evening of Cabaret. Designed to be presented in either a piano and voice or a three to five-piece band format, this is the perfect show for conventions, special events and private parties. Whether your audience is English or French, An Evening of Cabaret will appeal to everyone who loves beautiful music and engaging melodies.
France presents the best of the French musical tradition, from Quebec as well as France. You will also hear the songs that France performed for the Théâtre Français de Toronto in the musicals "La la la, mine de rien", "C'était un Petit Bonheur", and "Une soirée avec Jacques Brel". Everyone will recognize and love the beautiful melodies of Parisian singing legends Edith Piaf, Charles Trenet, Jacques Brel and Charles Aznavour as well as the most beautiful music from Quebec singers Diane Dufresne, Gilles Vigneault and Felix Leclerc. An Evening of Cabaret also features France performing music from jazz and latin singers Billie Holiday, Sara Vaughan and Antonio Carlos Jobim. Pat starts things off with the finest in smooth jazz and light classics, in either a solo piano or quartet setting. France and Pat have presented their music across Canada, and have performed at Roy Thompson Hall, the Canadian National Exhibition, Harbourfront and Queen's Park, as well as at major conventions and social events throughout Ontario.
Audio sample:
For more information, email France directly, or call (905) 458-0349.